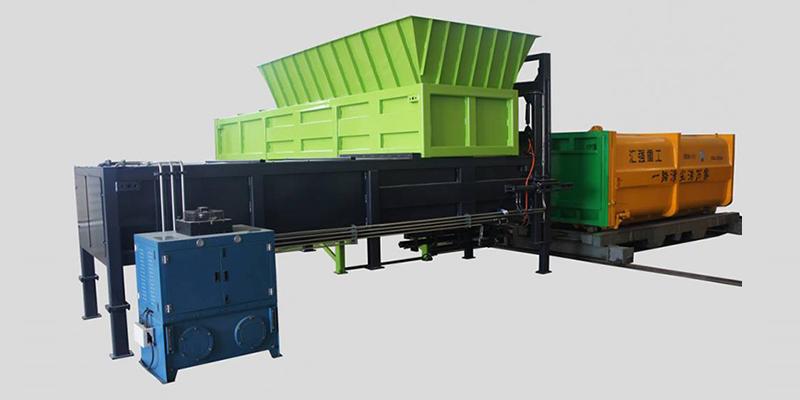 Description
Large stationary trash compactor adopts top feeding and horizontal compaction with rated garbage disposal capacity of 60t/h (single compactor), which is composed of main machine body, compaction head, hydraulic gripper locking mechanism, big gate mechanism, small gate mechanism, push-pull box mechanism, discharge chute, drain water discharging system, hydraulic system and control system and so on.
Technical parameter
Compaction cycle time /s
50
Working cycle time/min
17
Compaction cylinder volume/m3
6.5
Dimension of compaction head/mm
Width: 1900, height: 900
Depth of compaction head/mm
Gate structure 1000
450-1836
Max compaction force/KN
480
Container volume/m3
23
Density after compaction/(kg/m3)
750
Rated working voltage/V
380
Total power/KW
88
Speed of travelling mechanism /(m/s)
0.05-0.1(adjustable)
Feature
1. The compaction cylinder and compaction head of main machine body is made from high strength wear proof steel plate with yield strength of 1200MPa and tensile strength of 1400MPa and surface hardness of 450HB. The single compactor's daily garbage disposal capacity is 480 tons. The compaction ratio of household trash is 0.75 and the total power of compaction device is 88kw with four motor of 22kw.
2. The whole main machine body and compaction head is installed above the ground and adopts horizontal design.
3. The compaction head and compaction cylinder adopt small gap structurer without lead rail and guide wheel. When the trash container is filled up, the compaction device will perform forced compaction cycle. Besides, there is no residual trash when the gate is closed.
Huiqiang design and manufacture a wide range of municipal sanitation equipment, we are a reliable large stationery trash compactor manufacturer and supplier, offering waste collection and compaction equipment, garbage truck, road and street cleaning vehicle for environmental protection. With continuous research and development, Huiqiang offers quality stationery trash compactor with competitive price.