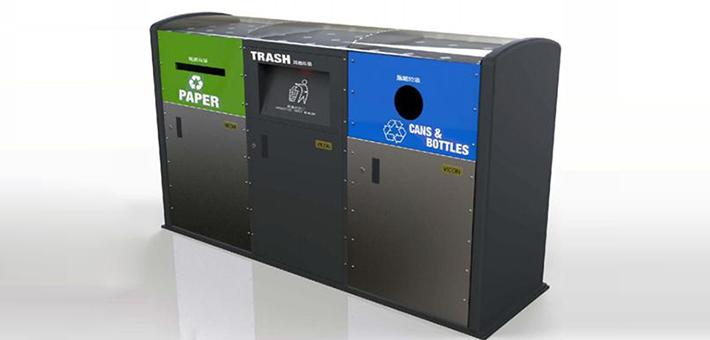 Description
The waste recycling bin adopts solar energy as power supply of compaction equipment and uses PLC and GSM structure processing center and mobile phone is the control terminal of smart recycling bin. You can positioning and monitor the system operation conditions by your phone and you can control the operation of recycling bin and perform fault diagnosis by sending text message in your phone.
Technical parameter
| | |
| --- | --- |
| Dimension | 184(L)*67(W)*130(H)mm |
| Weight | About 150Kg |
| Bottles recycling bin volume | 160L |
| Motor power | 120W |
| Single compaction period | 30s |
Feature
1. We have testing system to monitor the loading capacity of container. The hydraulic system will detect a pressure based on the trash on the container and then use related arithmetic, we can know the weight of container according to pressure.
2. The solar powered waste recycling bin adopts efficient transformation system from electric energy to mechanical energy. By streamlining procedures arithmetic and framework, we can reduce the production of useless work and enhance the transformation from electric energy to mechanical energy.
3. We adopt GSM control system and realize bidirectional monitoring and control recycling bin with GSM network.
4. The recycling bin is made from high quality antirust steel sheet, anti-UV, antiflaming ABS and PC materials.
5. The recycling bin is very smart and equipped with USB mobile charging function, waste battery recycling function, trash compaction function, trash sorting function and so on.
6. The containers adopt rivet connection and the container and ground is connected with foundation bolt of 12PCS.
Huiqiang design and manufacture a wide range of municipal sanitation equipment, we are a reliable solar powered waste recycling bin manufacturer and supplier, offering waste collection and compaction equipment, garbage truck, road and street cleaning vehicle for environmental protection. With continuous research and development, Huiqiang offers quality waste recycling bin with competitive price.